Edge Of Walton Challenge Course  staff are certified professionals with experience that allows them to work effectively with a wide variety of organizations and offer an impeccable level of professionalism.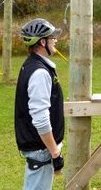 Rob Bundy  holds a Level 2 CUI Certification in challenge course operation and facilitation. Over the years, Rob has initiated and operated a number of youth engagement projects including the Pastures Project, Youth Encounters and Willing Workers. An accomplished public speaker and youth advocate, Rob lives in an old stone schoolhouse with his wife and two teenaged daughters.

Melody Hodgson , lover of a good book, all food and sunshine.  Currently assumes the post of Mama Bear at Walton Raceway while juggling a successful mortgage business in Seaforth and a family of four special souls (including Gary the dog). Melody manages Walton Sports Camps and is a course Facilitator with the Edge Of Walton

Craig Harrison holds a Level 2 CUI Certification in challenge course operation as well as a Child and Youth Worker Diploma. Craig is a long time voice for at-risk youth in Huron County and has managed a number of federally funded youth engagement projects over the years. Craig lives in Goderich with his wife and brand new daughter.
Edge Of Walton Challenge Course has additional staff that are trained and/or certified to assist with larger groups.