High Ropes Climbing
We encourage adults and kids of all abilities to try their hand at our high ropes climbing tower. Often people surprise themselves with what they are able to do when a challenge is put in front of them!
Low Ropes Activities 
The challenge course is equipped with many low ropes activities and games that are sure to keep you busy and engaged. Our Low Ropes obstacle course takes you through the bush on an exciting trip full of many different tasks. Outside of the bush, adults and kids will work together to accomplish team activities.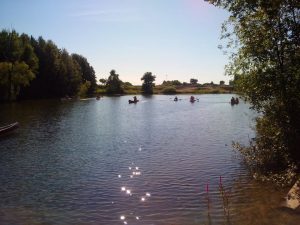 Canoeing
With the help of Dwaine Forrest of Timber's Outfitters, campers will explore our largest pond by canoe or kayak. The enclosed area ensures the water is calm – perfect for a relaxing canoe ride. Canoeing/kayaking is a great way to get your physical activity in while enjoying the benefits of being outside.
Yoga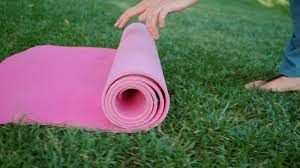 What better place to work on mindfulness and peace than the great outdoors? Engage with a professional instructor to stretch your body and centre your mind. Helping people meet their physical activity needs is very important to us. That's why we not only want to give you a great experience while you're here, but give you the tools to implement exercises into everyday life. Our yoga lesson will equip you with an easy program to take home and continue your health journey.
Painting
Create a masterpiece with us. Capture the beautiful landscape of our pond on a canvas with the help of an art instructor. We can't wait to see what you create!