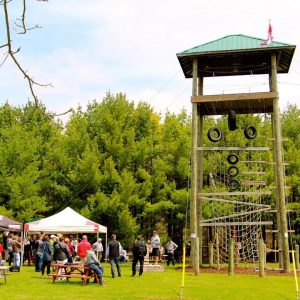 Taking Your Team to New Heights!
New in 2022 and 2023 we have added to our hight ropes!. A new 40 foot rock climbing wall on our tower, new self belay system, new "jungle gym climbing and new indoor space if the weather doesnt co operate! WOW!
High Challenge Course Elements take team members to new heights. Participants work though a series of climbing and balancing activities up to forty feet in the air. Each person experiences the thrill of reaching beyond their personal perceived limits to attain goals, all with total team focus and support. Our high ropes tower allows participants to experience unique movement opportunities that are challenging and exciting.
Everyday we see kids and adults do things they never thought they had the ability to do. That's Edge of Walton.  It's taking that little step outside of your comfort zone to experience the amazing opportunities waiting just outside.